In is not an overstatement to say that the future of software delivery from Latin America rests on the ability of development teams to generate solutions that answer the demand for digital innovation.
Digital – as we know – is a broad topic and can encompass services ranging from parsing and producing commercial value through data analytics; to expanding the horsepower of digital channels to improve the customer experience (CX); to migrating legacy platforms to the cloud in order to modernize the IT environment; to guiding banking and retailer customers on to the mobile platform; to embracing artificial intelligence (AI) to dramatically advance performance in key process areas. And that's just for starters.
The digital wave is not just very big and increasingly common, it also serves as a barometer on the readiness and capabilities available among the hundreds of organizations in Latin America that market themselves as digital innovators.
Nearshore Americas is addressing this important topic by hosting a webinar on December 5th at 2pm EDT. Registration is now open. We encourage our readers, especially those making decisions around which partners to work with on their digital journeys, to make a point to attend.
The 'live analysis' broadcast will feature a one-hour discussion with the following speakers:
Neil Chamness, Vice President of Corporate Operations​, CA Fortune Sales & Marketing
Neil has 11 years experience in the CPG (Consumer Package Goods) industry and helped lead the growth strategy of CA Fortune from a single market sales agency in Chicago with 22 employees, to tactically acquiring nine regional agencies across the United States and launching CA Fortune into a National Consumer Brands Agency. CA Fortune is now 300+ team members strong and manages brands at national and regional retailers in every State including E-Commerce retailers, Amazon.com, Jet.com, Walmart.com, and Target.com.
Camilo Gomez​ Senior, Director of Business Development,​ PSL
Camilo is Senior Director of Business Development at PSL where he is focused on building long-term value for clients by leveraging PSL capabilities. It's his goal to drive a sustainable, culture-first approach to growth. Prior to PSL, he was working on private/public initiatives to leverage technology in the health, infrastructure and energy sectors as well as in the telecommunications industry in projects in Israel, Hong Kong, Costa Rica, the US and Taiwan. Camilo has been an advisor to multiple local startups and an assistant professor at EAFIT University, and founded a video game studio in Medellin, Colombia.
Chris Johnson​, Vice President of Sales​, Gorilla Logic
Chris learned at an early age the values of integrity, perseverance and commitment to success. These traits have stayed with him throughout his career, starting with teaching mixed martial arts at age of 12, after earning his first-degree black belt (yes, he's an overachiever). This led to a seven-year career in motocross racing. As Gorilla Logic's director of business development, Chris leverages his business acumen and passion for helping others to guide our clients in reaching their maximum potential through partnering on enterprise application development.
Fabián Salazar​, Country Director​, GFT Costa Rica S.A.
Fabián Salazar is a Systems Engineer with more than 17 years of experience working with different IT departments. He is part of GFT as Costa Rica Country Director, previously of this appointment he worked for Experian Services and sports an impressive track record throughout his many positions including CoE (Center of Excellence) Senior Quality Assurance Manager, Director of DevOps for the CoE & Costa Rican I.T. Operations, his final assignment in the company was as Director of Smart Automation CoE.
Additionally, Fabián has specialised in Innovation and Digital Transformation. He is one of the core members within the Costa Rica IT Council for CINDE(Costa Rica Investment Promotion Agency); as part of this council he worked in multiple initiatives and training opportunities for Costa Rican people working with universities like Georgia Tech, Texas Tech, and others. He also acquired a Specialisation in Artificial Intelligence from M.I.T., a very prestigious and rare title in Costa Rica. He is currently in the process of obtaining his MBA from the University of Maryland.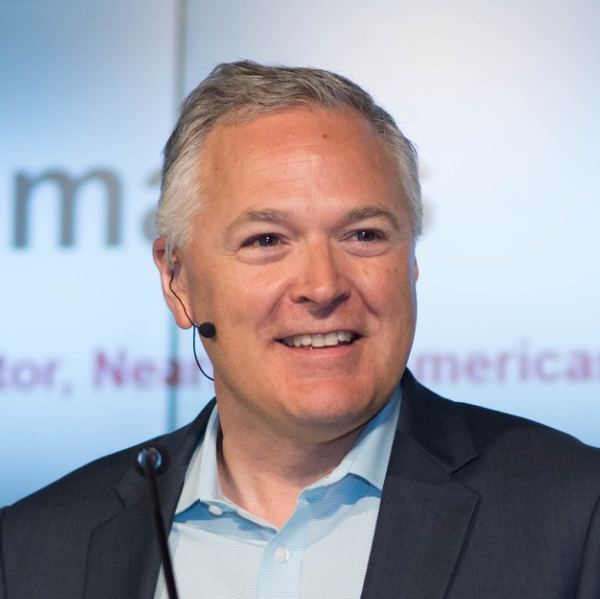 Kirk Laughlin, Host and Managing Director​, Nearshore Americas
Kirk Laughlin is an award-winning expert in Nearshore technology services and trends. He is one of the foremost thought-leaders on the expansion of technology outsourcing and knowledge-services investment in the Americas.  Laughlin and his team launched Nearshore Americas in September, 2009. 
Our guest speakers will provide deep insights on their experiences delivering digital innovation solutions to global customers. We will also debate the issue of overall readiness of the Nearshore provider market to stand and deliver – at this very critical time. We look forward to seeing you on the webinar, Dec. 5th. (The webinar is sponsored by Gorilla Logic, PSL, INTUGO and GFT).